TNA No Surrender 2008
Match Prévus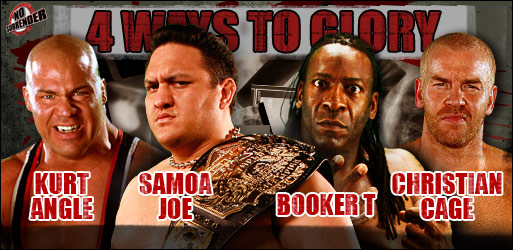 TNA WORLD HEAVYWEIGHT CHAMPIONSHIP MATCH
FOUR WAYS TO GLORY MATCH MATCH
"The Samoan Submission Machine" Samoa Joe © vs. Booker T vs. Kurt Angle vs. Christian Cage

TNA WORLD TAG TEAM CHAMPIONSHIP MATCH
Beer Money, Inc. © vs. The Latin American Xchange

KNOCKOUT WOMEN'S CHAMPIONSHIP
Taylor Wilde © vs. Angelina Love

CHALLENGE MATCH
The Rock N' Rave Infection (Lance Rock, Jimmy Rave and Christy Hemme)
vs.
The Prince Justice Brotherhood (Curry Man, Shark Boy & Super Eric)

LADDER OF LOVE MATCH
"Black Machismo" Jay Lethal vs. "The Guru" Sonjay Dutt

X DIVISION CHAMPIONSHIP MATCH
THREE WAY MATCH
"Maple Leaf Muscle" Petey Williams vs. Consequences Creed vs. Sheik Abdul Bashir

MIXED MARTIAL ARTS MATCH
"The Phenomenal" AJ Styles vs. Frank Trigg

TAG TEAM MATCH
Abyss & Matt Morgan vs. Team 3D

FALLS COUNT ANYWHERE MATCH
ODB vs. Awesome Kong (w/ Raisha Saeed)
----------------------------
RESULTATS DES MATCHS
Le show débute par le speech de Sting sur le ring , acclamé par le public Canadien.
Il se compare au hero canadien Bret Hart, Il dit qu'il continuera à lutter tant que la jeune génération comme Style et Samoa Joe n'auront pas appris le respect, Il annonce qu'il affrontera à Bounds For Glory le gagnant du main event de ce soir.


Pendant l'arrivée de Christian , Don West et Mike Tenay confirme que Booker T ne sera pas présent au show de ce soir suite au cyclone "Ike".
nous aurons donc droit à un thee-way entre Samoa, Angle et Christian.

Match 1: 3 vs 3
The Prince Justice Brotherhood (Shark Boy, Curry Man, Super Eric) battent The Rock N' Rave Infection (Lance Rock, Jimmy Rave & Christy Hemme) avec un tombé de Super Eric sur Christy Hemme.

Match 2 : Falls Count Anywhere match
Awesome Kong (/w Raisha Saeed) bat ODB avec un spine buster à travers une table.

Interview de christian par Lauren à propos de son match ce soir ou celui-ci revient sur ses premieres années ou il voulait devenir lutteur.

Match 3 : Tag Team Match
Abyss and "The Blueprint" Matt Morgan battent Team 3D (Brother Ray & Devon) , apres le Black Hole Slam d'Abyss sur Devon precedement assommé avec une chaise par Morgan.

Après le match, Team 3D seme la confusion entre leurs 2 rivaux du soir en frappant Morgan avec une chaise et faisant croire qu'Abyss est le fautif.

Match 4 : TNA Knock out's Championship
TNA Women's Champion Taylor Wilde bat Angelina Love (/w Velvet Sky & Kip James) avec un Fisherman Suplex pour conserver son titre.

Celle-ci celebre sa victoire avec Rhino qui était intervenu pendant le match contre Kip James.

Match 5 : TNA X-division's championship
Sheik Abdul Bashir bat "Maple Leaf Muscle" Petey Williams and Consequences Creed quand celui-ci a profiter du canadian destroyer de Williams pour faire le tombé sur Creed assommé

NOUVEAU CHAMPION DE LA X-DIVISION : SHEICK ABDUL BASHIR !!!

Match 6 : Ladder match
"The Guru" Sonjay Dutt bat "Black Machismo" Jay Lethal suite à la trahison de So Cal Val qui a effectué un low Blow à Lethal qui avait pourtant le match en main.

Interview de Angle par Borash qui délivre un message à Jarrett qui est responsable d'avoir aidé Styles a voler ses medailles.

Match 7 : TNA World Tag Team Championship
Beer Money Inc. (Robert Roode & James Storm /w Miss Jacqueline) battent LAX (Homicide & Hernandez /w Hector Guerrero & Salinas) avec le Payoff de Roode sur Homicide consecutif à une intervention de Miss Jacqueline
Beer Money Inc toujours champion

Match 8 : Mixed Martial Arts match
No contest entre A.J Styles et Frank Trigg suite à un Low blow accidentel de Style sur Trigg.
A la suite , Style tabasse Trigg avec un Kendo stick

Interview de Joe par Borash qui exprime son dégout vis à vis de Sting, il dit qu'il LE respectera qu'a partir du moment ou le STINGER montrera autant que lui à la TNA

Match 9 : TNA World Heavyweight Championship Match
Samoa Joe conserve son titre contre Kurt Angle et Christian suite à l'intervention de Jarrett qui assomme une fois de plus Angle avec sa guitare.
Samoa Joe n'a plus qu'à faire son Muscle Buster pour la victoire.

Apres le match, Jarrett vient donner la ceinture de champion à Joe et les deux regardent Kurt Angle ensanglanté.
------------------------------
Vidéo a venir